Wooclap Education Summit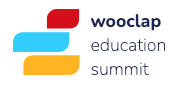 The Wooclap Education Summit (WES) on the 17th of June is an annual day of online talks bringing together Wooclap users, educators and EdTech innovators from around the world to discuss the current and future state of education. This year, they will take the virtual stage to answer one key question: What will the education of tomorrow look like?
2pm - 2:45pm CET
How can Universities remain attractive post-COVID?

Caroline KING, Learning Technologies Coord. Study Group
Mark BROWN, Director of the NIDL at Dublin City University

This talk will focus on how the current learning environment has impacted the student experience. We will start by looking at how the current landscape has changed the learning experience for students, before discussing how educational professionals have adapted to this landscape and the actions they have put in place to overcome the challenges of distance learning.
3pm - 3:45pm CET
EdTech and its impact on the role of teachers

Scott HAYDEN, EdTech Demonstrator Department for Education and Digital Innovation Specialist at BCoT
Dr. Emma PAUNCEFORT, Founder of Dilectae & Learning Science Practitioner

These last few years, the EdTech sector has been exponentially expanding, and its use in the classroom has become more frequent than ever. We will use this talk to address this change and discuss its impact on the role of teachers.
4pm - 4:45pm CET
How to tackle the dispersion of tools

Timothy SKELTON, Lead Practitioner: eLearning at New College Durham
Peter ROBERTS, E-learning systems manager Goldsmiths University of London

Nowadays, EdTech tools are in great and diverse supply, but we must be careful not to consider them 'just one more thing to do'. When implemented well, EdTech tools are an inseparable thread woven throughout the teaching and learning process. During this session, we will discuss how to tackle the dispersion of EdTech tools to ultimately drive improvements in educational outcomes.
Sign up
Artikels met gelijkaardige interesses